The Pony Express - Chincoteague Island, VA
The Pony Express is a seaonal transportation service provided by the Town of Chincoteague, Inc. This service is open to the Public. The Pony Express follows fixed routes covering most of the Island. Many of the motels, restaurants, shops, parks, recreational areas, ice cream parlors, and campgrounds are along our routes. Americans with Disabilities Act public transportation option is available.
As a courtesy, please NO ALCOHOL, NO TOBACCO & NO PETS.
Island Trolley Stops
For your convenience, Pony Express stops are located throughout the Island. Look for the Trolly Stop signs. Check out the seasonal schedule and times below.
Trolley Fare
25 cents per person, per ride. Exact change is appreciated. Free ride tokens are available at local businesses.
Narrated History Tour Aboard "The Pony Express"
Local volunteer guides will take you back in time and familiarize you with the intriguing history of Chincoteague Island.
Every Tuesday and Thursday beginning June 7th until September 8th.
First tour begins at 2 pm. Last tour begins at 3:15 pm.
Adults - $4
Children 12 and under - $2
Ages 2 and under on laps - FREE
Tickets are sold ONLY on the day of the tour beginning 1:30 at:
The Community Center
6155 Community Drive
Find on Google Maps
Trolley Schedule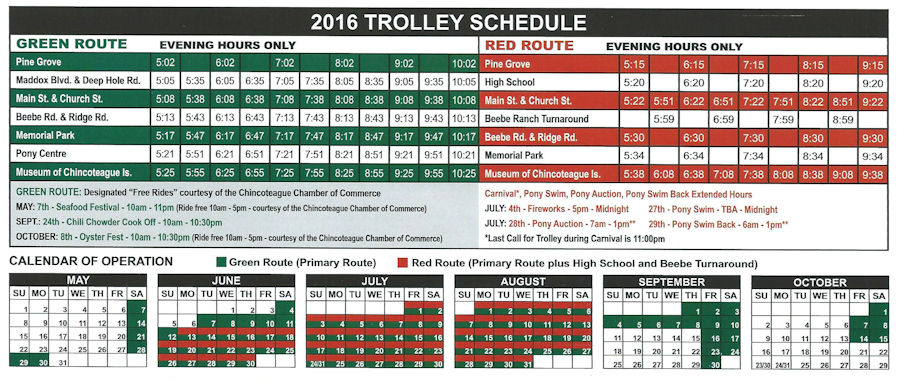 Trolley Stops